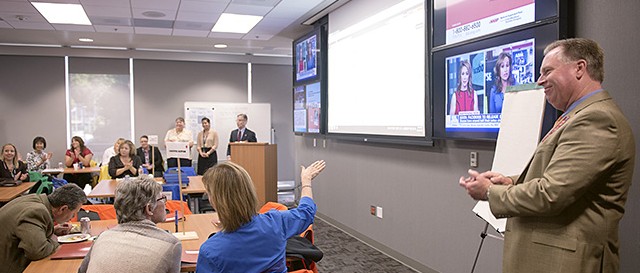 By Peter Fullam, SGVN
Whittier Daily News – 10/24/12
WHITTIER – Before a crowd of about 30 that included the City Council, the mayor, the police chief, assorted city officials and Rep. Linda Sanchez, D-Lakewood, the city Tuesday showed off its new state-of-the-art Emergency Operations Center at the police station.
"It's a huge step up," said City Manager Jeff Collier, standing beside a giant display of video screens at the front of the room. "It's just light years ahead of where we've been in the past."
The city received a $500,000 Federal Emergency Management Agency grant to install EOC equipment, which includes an audio-visual system that displays information and images from multiple locations.
The system allows emergency managers to view up to eight video sources, including video images sent from amateur radio operators in the field.
"It's like "Hawaii Five-0,"' said one observer, looking at a giant computer touch screen in the briefing room below the EOC. The screen allows operators to move or enhance images and maps by touching them, similar to devices used on the TV police program "Hawaii Five-O."
The system gives emergency managers the ability to monitor multiple scenes and situations during emergencies or a disaster.
The system also includes incident command software that integrates the National Incident Management Systems with the city's Geographic Information System and Internet mapping services such as Google maps.
The system includes new radios and antennas that make it compatible with the police, fire department, the sheriff's department and all the agencies the EOC needs to communicate with during an emergency, said E.J. Boranian, Information Technology-Records manager for the city.
"It's tremendous to see all the new equipment," said Sanchez. "It's great when you finally see the end product of something" that took a long time to put together, she said.