Innovative Audiovisual Solutions
Integrated Media Systems is an audiovisual and communications system integrator. We are a recognized leader in the design, integration, and support of video, audio, audiovisual, videoconferencing, presentation and communication environments for global enterprises. Our audiovisual systems are pre-built, pre-wired, pre-programmed, and tested for functional performance in our assembly and fabrication facilities before the equipment is shipped to a site to ensure the systems work efficiently.
Leveraging 25 years of experience and thousands of successful projects, IMS has helped some of the largest and most influential organizations in the world; Apple, Boeing, Symantec, Capital Group, the Department of energy, Kaiser, and the University of California, develop and implement global enterprise communication plans.  IMS offers strategic consulting services, world-class design-build services, and unparalleled support and service.  As a consultant, IMS helps organizations develop long-term, comprehensive communications plans.  By evaluating existing systems and immersing ourselves in daily  operations, we are able to develop a holistic approach to our client's requirements, creating standardized solutions that enhance organizational collaboration in the boardroom, in conference rooms, in training rooms, on desktops, on tablets, and on smart phones. IMS' five-step design-build process (Design, Engineering, Staging and Fabrication, Installation, and Support) delivers systems that just work.
"We Make Communication Technology Simple"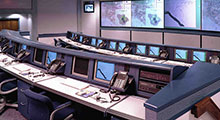 Command & Control
An integrated system gives emergency managers the ability to monitor multiple scenes and situations during emergencies or a disaster.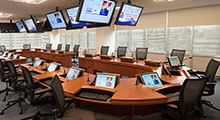 Conference Rooms
Streamline the technology in conference rooms and meeting rooms to facilitate corporation-wide collaboration between multiple locations.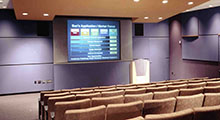 Auditoriums
Integrated Media Systems can help implement the required technology and keep the focus on the presentations.
Our Clients Say
"

We were pleased with every phase of the work done by your company. We found you and your entire staff to be extremely helpful and responsive.

"

Midway through the project, the city made significant changes to the original concept and IMS was totally accommodating and helpful through these changes. Your people have been exceptional in their availability and responsiveness.

"

The quality of their work, their ability to integrate a variety of systems and equipment and their integrity are their signature. They have our highest recommendation.

"

We found a company that listened to their customers and carefully planned their installations. The success of IMS can be attributed to excellent planning techniques and the right people to employ them.